Background
About EepyBird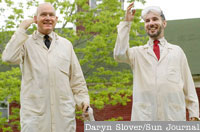 The New York Times called them "Hilarious," Rolling Stone called them "Wizards," and Advertising Age called their work "the most important commercial content" of the year.
So who are these guys?
EepyBird is a company that explores creativity, and in particular, the ways in which ordinary objects can do extraordinary things. They are the creators of one of the best-known viral videos of all time, "The Extreme Diet Coke & Mentos Experiments," as well as "The Extreme Sticky Note Experiments," which transformed over 250,000 sticky notes into cascading waterfalls of color.
Their videos have been seen over 150 million times.
One of EepyBird's recent creations is The Coke Zero & Mentos Rocket Car, a vehicle that propels a human using nothing but the power of Coke & Mentos. It currently propels the pilot over 200 feet.
In their laboratory deep in the woods of Buckfield, Maine, Fritz Grobe and Stephen Voltz and their creative team experiment with Coke & Mentos, sticky notes, paper airplanes, shampoo, and more. They spend countless hours searching for ways to transform these things from everyday life into something new, into something unforgettable.
Fritz, the short, bearded guy, is also a professional juggler. Stephen, the tall, bald guy, is also a lawyer. Both of these skills have proven useful in managing the Coke & Mentos phenomenon.
EepyBird has appeared on The Late Show with David Letterman, Ellen, The Today Show, Mythbusters, and more. They have performed live in Paris, London, Istanbul, Las Vegas, and even on Wall Street.
They have won four Webby Awards, an OMMA Best in Show award, and have been nominated for two Emmys. They've even set several Guinness World Records and appeared in videos for Blue Man Group, Barenaked Ladies, and Weezer (the Grammy-winning "Pork & Beans").
Stephen and Fritz have spoken all over the United States about viral video, creativity, and innovation. They have spoken at venues and events including Columbia University Business School, the Art Center Design Conference in Pasadena, IDEO in Palo Alto, and at the Producers Guild of America in New York City.
EepyBird has worked with The Coca-Cola Company, Coke Zero, Google, OfficeMax, ABC Family, Perfetti van Melle, DigiSynd (a subsidiary of Disney), Ogilvy, Edelman, O'Reilly, and more.
They are currently working with their creative team at the EepyLab in Buckfield, Maine on several new projects exploring innovative uses of everyday objects.
About Fritz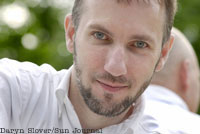 Fritz Grobe left his studies of mathematics at Yale University to become a professional juggler. He went on to win 5 gold medals at the International Jugglers Championships and hold a world record for juggling way too many objects. He was a lead actor and featured solo clown in the original cast of Birdhouse Factory, a touring Cirque du Soleil spinoff. Co-founder of EepyBird, he lives in the small town of Buckfield, Maine.
Read more about Fritz.
About Stephen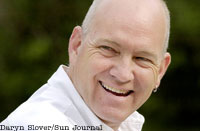 Stephen Voltz spent 20 years as a trial lawyer in federal and state courts, winning leading cases in Massachusetts involving discrimination, fraud, and racketeering. But before he grew up to be a responsible adult, he was inspired to be a performer by the vibrant street-performing scene in San Francisco. He went on to study at Celebration Barn Theater in South Paris, Maine, and have a one-man show at the San Francisco Fringe Festival. Co-founder of EepyBird, he splits his time between Gloucester, Massachusetts, and Buckfield, Maine.
Read more about Stephen.