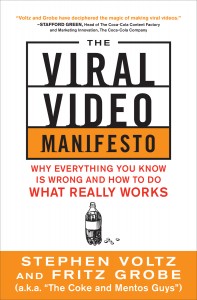 Praise for their book, The Viral Video Manifesto:
"Voltz and Grobe have deciphered the magic of making viral videos."
— Stafford Green, The Coca-Cola Company
"These guys are the viral experts, and they show you the way in clear, concise language. This is the first recipe for virality that I buy."
— Kent Nichols, co-creator of viral phenomenon AskaNinja.com
"Very Impressive!" – David Letterman

Since 2006, EepyBird has received:
2 Emmy Nominations
4 Webby Awards
"Hilarious!" – The New York Times
Fritz and Stephen were named:
#12 on Vh1's list of the Greatest Internet Superstars
#43 on Time Magazine's 2010 List of YouTube's Greatest Hits and they were voted GoViral's Internet Game Changer of the Decade
"Wizards!" – Rolling Stone
EepyBird was featured in the Grammy-winning video "Pork & Beans" by Weezer
In January of 2007, Advertising Age called their work "the most important commercial content" of the year, and The Extreme Diet Coke & Mentos Experiments won the OMMA Best in Show award.
"Geniuses!" – Lawrence Lessig, Stanford University
Featured in People Magazine's "Best of 2006" Issue
"Mesmerizing!" – All Things Considered, NPR
By conservative estimates, The Extreme Diet Coke & Mentos Experiments have now been seen over 120 million times.
"Unbelievable!" – Al Roker, The Today Show
EepyBird has set three world records for Coke & Mentos:
Over 500 geysers in Cincinnati
Over 800 geysers in Holland
Over 1,300 geysers in Belgium
And they are preparing for over 2,000 geysers in Germany in 2010!
"A triumph of corporate sponsored art." – NewTeeVee.com
Fritz & Stephen topped Portland Magazine's list of the 10 Most Intriguing People in Maine