Who is EepyBird?
EepyBird explores creativity, and in particular, the ways in which ordinary objects can do extraordinary things. In their laboratory deep in the woods of Buckfield, Maine, Fritz and Stephen and their creative team experiment with Coke & Mentos, sticky notes, paper airplanes, shampoo, and more. They spend countless hours searching for ways to transform these things from everyday life into something new, into something unforgettable.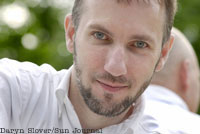 So who are these guys?
Fritz Grobe and Stephen Voltz are the mad scientists behind EepyBird. Fritz, the short, bearded guy, is also a professional juggler. Stephen, the tall, bald guy, is also a lawyer. Both of these skills have proven useful in managing EepyBird insanity!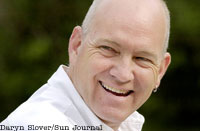 EepyBird has appeared on The Late Show with David Letterman, Ellen, The Today Show, Mythbusters, and more. They have performed live in Paris, London, Istanbul, Las Vegas, and even on Wall Street. Learn more about booking EepyBird's live performance.

They have won four Webby Awards, an OMMA Best in Show award, and have been nominated for two Emmys.
They've even set several Guinness World Records and appeared in videos for Blue Man Group, Barenaked Ladies, and Weezer (the Grammy-winning "Pork & Beans").
Stephen and Fritz have spoken all over the United States about viral video, creativity, and innovation. They have spoken at venues and events including Columbia University Business School, the Art Center Design Conference in Pasadena, IDEO in Palo Alto, and at the Producers Guild of America in New York City. Learn more about EepyBird's corporate presentations.
EepyBird has worked with The Coca-Cola Company, Coke Zero, Google, OfficeMax, ABC Family, Perfetti van Melle, DigiSynd (a subsidiary of Disney), Ogilvy, Edelman, O'Reilly, and more. Learn more about EepyBird's work with brands.
They are currently working with their creative team at the EepyLab in Buckfield, Maine on several new projects exploring innovative uses of everyday objects.