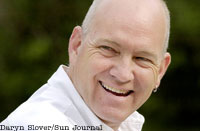 A.B. from Oberlin College
Law degree from New York University
Trial lawyer in federal and state courts, winning leading cases in Massachusetts involving discrimination, fraud, racketeering, etc.
One-man show at San Francisco's EXIT Theater and Fringe Festival
Board of Directors, Celebration Barn Theater
Read more about Stephen:
Before Stephen grew up to be a lawyer and a responsible adult, he was inspired to become a performer by the vibrant street performing scene that surrounded him as a kid growing up in San Francisco. He taught himself to juggle at an early age and to eat fire when he was a teenager.
Armed with those skills and a few magic tricks, he took to the streets to perform while he was in high school and college. Stephen and his brother John performed at Bay Area tourist attractions including San Francisco's Fisherman's Wharf. Their act stood out primarily because it featured a William Tell-like stunt in which Stephen would place an apple on his brother's back and chop it in half with a two-foot steel machete, wielding the machete so as to slice the apple neatly in two but stopping the blade just in time to avoid maiming his brother.
Their mother did not approve.
Stephen went on to receive his A.B. from Oberlin College in 1979, where he majored in religion, studied theater, and taught juggling.
He received his law degree in 1984 from New York University. After graduation he moved to the Boston area where he has been a trial lawyer ever since with an active practice in both the state and federal courts. He has tried and won leading cases in Massachusetts involving, among other things, sex discrimination in employment, securities fraud and civil racketeering, and the rights of the public in Massachusetts's beaches.
While keeping up with a fulltime law practice, Stephen returned to performing several years ago and has studied physical comedy extensively at Celebration Barn Theater in South Paris, Maine, with master teachers Avner ("Avner the Eccentric") Eisenberg, Bowdoin College theater professor Davis Robinson, and the late Tony Montanaro.
In 2000, Stephen produced and starred in his own one-man physical comedy show "The Benefit of Doubt" at the San Francisco Fringe Festival.
In the past few years, he has performed in small theaters including the Oddfellow Theater in Buckfield, Maine; Celebration Barn Theater, in South Paris, Maine; and the EXIT Theater in San Francisco, California.
In 2005 he became a member of the board of directors of the Celebration Barn Theater.
Stephen is divorced and has two daughters, Emily and Hannah who live with their mother, also in Massachusetts. His daughter Emily is a dancer. His daughter Hannah is a trapeze artist and acrobat. Hannah toured New England as a performer with 2005 edition of Circus Smirkus.