The Original Coke & Mentos Sensation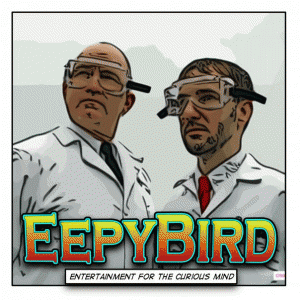 Our first video, the infamous Extreme Diet Coke & Mentos Experiments, took the basic idea of dropping Mentos into soda and turned it into a huge Internet phenomenon. By conservative estimates, our Coke & Mentos videos have now been seen over 120 million times, and they were voted GoViral's Internet Game Changer of the Decade. But where did the idea come from? Here's a look at how all this madness began – and some of the adventures we've had along the way!
How Coke & Mentos Began
The basic idea of Coke & Mentos has been around for decades. We've even heard stories from back in the depths of time (the 1980's?) of people dropping things like peanuts into soda to watch it froth up.
The first specific references to Coke & Mentos that we've found are thanks to Lee Marek, a chemistry professor at the University of Illinois at Chicago. Marek's "Kid Scientists" demonstrated Diet Coke & Mentos geysers on the Late Show with David Letterman in 1999. The demonstration used simple nozzles to make tall geysers and explained that the geysers were caused by nucleation.
Our Early Experiments
We first heard about Coke & Mentos in November of 2005, when a friend of ours who knew we liked odd experiments asked, "Well, have you tried this Coke & Mentos thing?"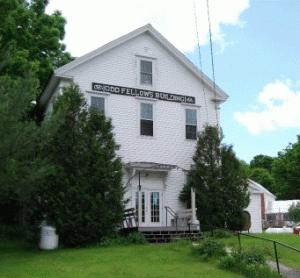 Just like everyone else, we had to go out in the backyard and try it! We dropped a handful of Mentos into a bottle of Diet Coke, saw the geyser spray up 6 or 8 feet, looked at each other and said, "We have to do something with this!"
The very next night, we presented the very first choreographed Diet Coke & Mentos fountains at the Early Evening Show, a live theater show at the Oddfellow Theater in our home base, Buckfield, Maine.
This first display used 10 two-liter bottles of Diet Coke and 60 Mentos. Holes drilled in the tops of the bottles created the first angled geysers. The live audience liked it a lot, so that got us thinking: just how big of a fountain display can we make?
Six Months Later…
We spent six months developing different Coke & Mentos geyser effects before we were ready to film our first video. We tried everything we could think of: drilling holes in the tops of the bottles, rolling the bottles down ramps, swinging them on ropes…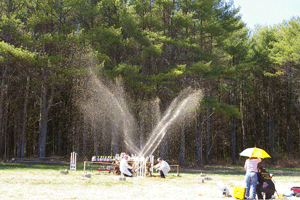 Then on April 29, 2006, we gave it a try: over 100 two-liter bottles of Diet Coke and over 500 Mentos. What you see in the big video was shot in one take, and that was the first time we'd ever done it. We had tested each component and we'd practiced the choreography without setting the geysers off, but the biggest test we'd ever done up to that point was 20 bottles.
We crossed our fingers, Mike pressed record, and we started…
Three minutes later, it had worked! After six months of experiments and three days setting everything up out in Brian Bennett's field, it had worked! We were elated, and now it was time to see what everyone else thought of our obsession.
The First Week of Coke & Mentos Madness
The Extreme Diet Coke & Mentos Experiments went online at EepyBird.com on Saturday, June 3, 2006. We told one person. He told some friends… They told some friends… Within hours, thousands of people were coming to see the video.
That Monday morning, just two days after the video went online, The Late Show with David Letterman called. It was that quick. Tuesday morning, Late Night with Conan O'Brien called. Wednesday afternoon, we were on NPR's All Things Considered. Thursday, the people who built the Bellagio Fountains in Las Vegas, which was our big inspiration for the choreography, called. It was completely overwhelming and exciting!
Three weeks later, we were headed to New York to appear on Letterman, the Today Show, and more!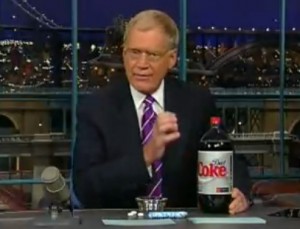 Now Do It Live on TV!
At that point, we had only ever done the big Bellagio-style fountain (we call it "Experiment #137") once – what you see in the video, that was our first and only attempt. Now we were faced with doing it three times in twenty-four hours, and on national television! =gulp= We had to compress the three days that we took setting everything up for Experiment #137 into three hours. And we had just two chances to rehearse it all before going to New York.
The first rehearsal was a disaster: bottles tipping over, strings tangling, geysers only going a foot high… That was the worst day we've ever had. We scrambled to fix the problems: bracing bottles, new ways of attaching the strings, speeding up the setup so that the geysers didn't fizzle… When it was time to go to New York, we were ready!
Still, with so much potential for disaster, we were a bit nervous. But both Letterman and the Today Show went off very smoothly and we had a blast, no pun intended. We even survived a group of dogs running right through the entire setup just before going live on the Today Show!
Our Adventures Since Then
Everything took off from there. There were articles in the Wall Street Journal, Rolling Stone called us "wizards," the New York Times said we were "hilarious" – it was surreal. We were even in GQ Magazine. We were on Mythbusters twice, and we even went to Las Vegas to do a live performance at Caesar's Palace for HBO's The Comedy Festival.
Some of our favorite moments were meeting Ellen DeGeneres, who was super nice when we were on her show, and doing a live webcast on MTV's Total Request Live – from our headquarters in Buckfield, Maine. It's probably a safe bet that that's never been done before (or since).
In just the first year after the video went online, we got to go to Paris, Istanbul, Holland, Belgium, and more.
In Istanbul, they sealed the inside of a nightclub with plastic so that we could perform indoors. In Holland, we got to visit the Mentos factory where all the Mentos for the U.S. are made. That's a lot of Mentos. And we had no idea they made flavors like grape, strawberry yoghurt, and chlorophyl. Yes, chlorophyl. It tastes like spearmint. Why is it called chlorophyl? Your guess is as good as ours.
Our favorite trip was to visit WET Design. They're the folks that designed and built the Bellagio fountains in Las Vegas. We got a tour behind the scenes at the Bellagio and a look at what they're working on in their labs! It was a huge inspiration, and we still can't believe we've seen water do what they can make it do! Perhaps we could collaborate on something someday – a giant Coke bottle geyser?
That September, we got to make a video that was shown during Blue Man Group's "How to Be a Megastar 2.0" arena tour. We went down to their amazing theater in Boston to film all sorts of geysers. The challenge: it was only sixteen feet to the ceiling, where all sorts of electrical equipment was hanging. And we had spent all our time trying to make the geysers go higher. That was the first video where we used sprinkler attachments and donut dominos. That's where we have these donut-shaped sprinklers that cause the bottles to tip over when they start spraying. When each bottle tips over, that pulls the string that triggers the next geyser. That was what started us working on "The Domino Effect."
The Extreme Diet Coke & Mentos Experiments II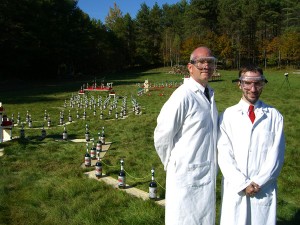 We made "The Extreme Diet Coke & Mentos Experiments II – The Domino Effect" that October. That was the most intense single day we've ever had. We'd been setting up for days, and we'd barely slept the whole time. With over 250 delicate trigger mechanisms linked together to make one giant chain reaction, everything had to be checked and double-checked.
At 2 AM the night before, we were literally cutting pieces of wood to fix a potential problem in the stair-climbing mechanism. After six hours of setting up all the bottles that morning, it was very hot – so hot that the soda was fizzing and evaporating up onto the Mentos, making them sticky. We discovered this as we did the final check of all the triggers, and we had to face the possibility that after all this work, the Mentos might just stick to the nozzles and nothing would work.
We crossed our fingers and pulled the first pin. And, once again, all our hard work payed off: it worked! We've never been so exhausted and relieved!
The First Year
At the end of that crazy first year, we got some amazing honors, including being nominated for an Emmy Award for Outstanding Broadband – Variety. We saw Oscar the Grouch and Elmo at the ceremony, which was one of our most star-struck moments. We won both the Webby Award and the Webby People's Voice Award for Viral Video. For that, we got to perform live on the sidewalk on Wall Street for all the people in their fancy clothes. We did our best not to get them soaking wet.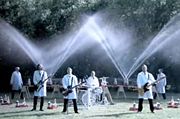 People Magazine had us in their Best of 2006 issue, and we were on Vh1's Greatest Internet Superstars (we were #12!). We were even among the Internet celebrities included in the Barenaked Ladies video "The Sound of Your Voice" and Weezer's 2009 Grammy-winning video "Pork and Beans."
Those first six months of working on creating different geyser effects, spending about a thousand bucks on Coke & Mentos, and wondering if we were completely insane were totally worth it. It's been so much fun! And who would have guessed that Mentos sales would go up 15 to 20%, that traffic to Coke.com would double, and that all this time later, people would still be crazy about Coke & Mentos madness!
A Lot of Trips to the Recycling Center!
We've gone on to set a series of official Guinness world records for Coke & Mentos geysers, from over 500 geysers in Cincinnati to over 800 in Holland, and over 1,300 in Belgium. One of the most important parts of these events, and of all our experiments, is to be responsible and make sure we recycle all the bottles we use. After all these experiments, we may be close to setting a world record for recycling! Make sure you do the right thing and recycle when you try Coke & Mentos at home!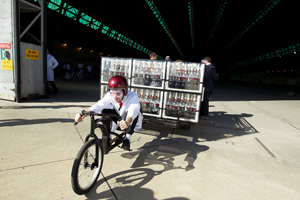 What's Next?
Here at EepyBird, we're all about how ordinary objects can do extraordinary things. We've done experiments with 250,000 sticky notes, fire and music, the Coke Zero & Mentos Rocket Car – in 3-D, and drink glasses.
We really appreciate all of you coming to EepyBird.com and watching our videos. It's thanks to you that we can spend countless hours doing all these crazy experiments. We're hard at work in the laboratory coming up with wild new experiments – some with Coke & Mentos and some that are even stranger! So thanks for watching!
– Fritz & Stephen